Mulberry Church Cemetery
White Section
This Cemetery was once known as Friendship, Hart & Jackson Cemetery.
Transcribed by Lisagraham32@aol.com October 2003 & Nov. 2004

Location: Located behind Mulberry Church Cemetery on Mulberry Road off the Georgianna HWY. near Brantley. Beside this Afro-American Church is a Cemetery which can be seen from the Road. However, behind the barb-wired fence & brush lies the White section of the Cemetery.
---
Marriage License Crenshaw Co. Joseph Aplin and
Mrs. Margaret Odom - 12th day of May 1878. Know all men by these presents,
that we Joseph Aplin and W. H. Brewer are held and firmly bound unto
the State of Alabama.

In 1880 She appears on the Crenshaw County Census, age 52.
Joseph Aplin's name also appears above hers & then it is struck threw, however,
Margarett is still listed as his wife. Apparently Joseph was deceased.
In 1870 Peggy Odom was a widow with 3 sons, William T., James, & John.
In 1860 Peggy is with husband John Odom with sons William & James.
Margarett Aplin A.K.A. Peggy Odom
MATILDA RIDGEWAY
JULY 1, 1822 - AUG. 6, 1822 Lavonia Odom
Dau. Of J. R. Odom & Wife
Sept. 2,1914 - Aug. 28, 1918

Infant Son of S.L. & E.L. Armstrong Infant Daughter of S.L. & E.L. Armstrong
Dec. 28, 1903 Dec. 12, 1902
Jan. 5, 1904 Dec. 12, 1902
(Samuel & Elmua ODOM Armstrong marriage Record- Crenshaw Co. 12 Dec. 1901 Bk. F Page 20)

*Lula Armstrong * Death Certificate shows Lula to be the wife of James Armstrong.
Wife of J.D. Armstrong Also Father was Jim ODOM, Mother was Nancy WHITEHEAD.
July 20, 1882 James Odom & Nancy Whitehead married in Crenshaw Co. 24 Feb. 1881
Aug. 31, 1919

Sacred To The Memory of
William Thomas, Son of (Son Of James W. & Mary A. Armstrong per census)
J. W. & M.A. Armstrong
Born Jan 9 1858 Died March 11 1876 AGE 18


The Luverne Journal- May 19, 1898
Maximillian Armstrong
Died in Luverne Sunday May 15, 1898 at the residence of his son.
Maximillion Armstrong , age 80 years. He had an Illness of only
a few days.
He has been a residence of this section since he was 12 years old, his father having settled
in Yellow Shanks about that time, where young Armstrong and his TWIN brother
J. M. Armstrong, now living in Beat 12. He was familiarly known to the people as "Dock"
He was a member of The Primitive Baptist Church. The deceased was the father of
Mr. John Armstrong, the efficient Circuit Clerk.
He leaves his second wife, several grown children and a host
of friends. His remains were taken to Beat 12, at the FAMILY BURIAL GROWNS.
(I believe him to be buried in THIS Cemetery UNMARKED.)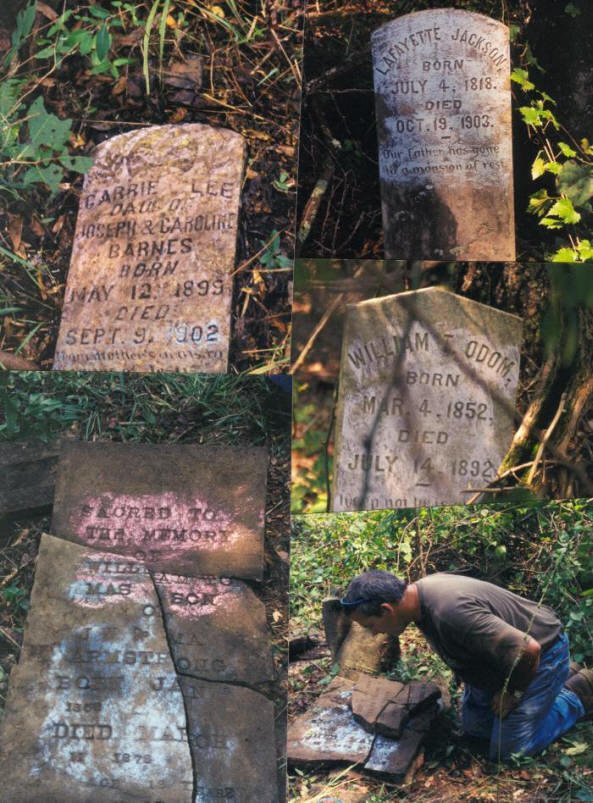 Carrie Lee BARNES
Dau. of Joseph & Caroline Barnes
May 12, 1899
Sept. 9, 1902
Note: Caroline Barnes was the daughter of
Layafette & Elizabeth Brown Jackson.

Lafayette Jackson
Born July 4, 1818
Died Oct. 19, 1903


JAMES ODOM "UNMARKED BUT ADDED-PER DEATH CERT"
"Husband of Nancy Whitehead"
"Son of John & Margaret Brown Odom" James W. Odom "Unmarked- Per Death Cert "
1856- Died June 29, 1928 Widower, about age 65, Died Escambia County, AL
Oct. 10, 1918 Buried in Jackson Cemetery.
Birth abt. 1853

Laura Odom "Unmarked but added per- Death Cert"
Age 48 Years 2 months 19 Days Died 08, Feb. 1918- Jackson Cemetery
Parents: Father; Andrew Whitt- Mother; Ella Iris Whitt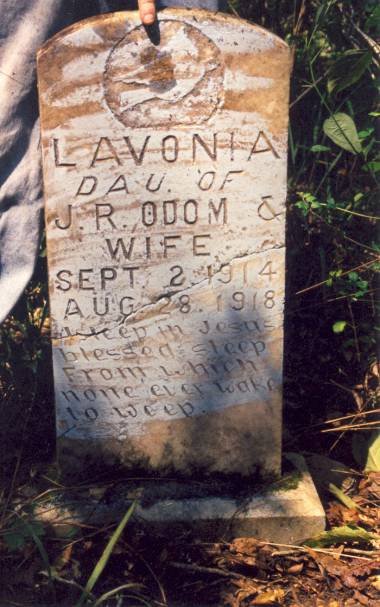 BACK