Family Photo's Of Covington County

This is
Hank Williams Jr's great grandparents
,his great grandfather
Hiram Wesley
and my great grandfather
John T Wesley
are brothers.
pchesteen@alaweb.com
SUBMITTED BY : Peggy Chesteen
---

Benjamin Mose WESLEY Robert Henry WESLEY
Submitted Peggy Chesteen pchesteen@alaweb.com "New April 2005"
Benjamin Mose Wesley
Born as a twin of Robert Henry Jan 22,1822.
in Ga. Moved with his sister Nancy Charlotte Wesley Lee , his twin brother Robert and an older brother
to Pike co in 1847. Married Mary Lee and had 9 children ,buried at Union Springs Primitive Baptist Church
Cemetery January 27,1891. He was a Primitive Baptist Minister and helped bury the first one interred at
Ramah ,a child of Galusha Wilkerson.
Robert Henry Wesley
born Jan 22,1822 in Ga. a twin to Benjamin Mose Wesley .
Robert married Leo Nardie Williams Feb 25,1847 in Pike co, Robert Henry died Nov 1,1861 and was
buried in Ramah Cemetery .
Robert Henry was Hank Williams Jr. great great grandfather also my great great grandfather .

---
Zady Norsworthys & her husband Jack.
Their children -Mennie, Presley, Emma, Wesley, Myrtice, Garfield,and Ben ..
Her Father Lanier Carter -[my great grandfather ]
thought you might would like this Peggy Chesteen pchesteen@alaweb.com
(See Obituary)
---
Benjamin David Carpenter and Elizabeth Ware Carpenter


---
Top Left: Willie Ozzie Carpenter
Middle: I believe to be Jesse Monroe Carpenter, Sr.
who was the Father of Willie Ozzie Carpenter.
---
This was taken before 1930.
Joanna Griffin Carpenter
Joanna married Cary Carpenter abt. 1870

---
SUBMITTED BY PEGGY CHESTEEN
1927
Left to Right Front -Emma Norsworthy, ? McQween ,Effie Mae Wesley, Agnes Carter, Ben Norsworthy,
Trudie Mae Carter, Roy Wesley, Mennie Norsworthy, J W Goodson, Syble Goodson ,?,..
Grandma WEAVER

JACKSON HOMEPLACE
CRENSHAW COUNTY, AL.
Submitted by Dot Besole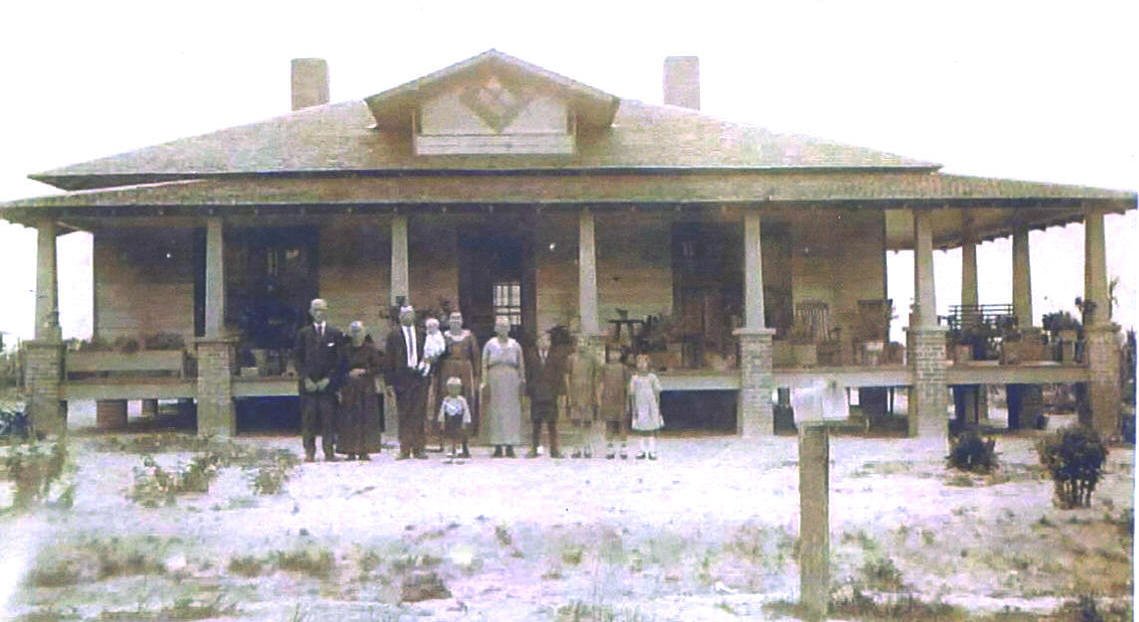 The Jackson Homeplace was located across the Street from the Hart-Jackson Cemetery on Mulberry
Road off AL HWY 106 (Georgiana Hwy) which is off 29 south of Brantley, on U.S. 331.
From LEFT- RIGHT
William Marion (Marion) and Martha Holloway Jackson, (oldest son of Lafayette Jackson
7/4/1818 - 10/18/1903)
& their youngest son, John Marion, Irene Owens Jackson & her Mother Rachael
Clarinda (Neese) (Edward Smith) Owens, & children Walter, Gladys, Ova Kate and Merlene.
John Marion is holding John Jr. and Donald is standing in front or Irene.
None are alive today, except Virginia Pittman Jackson wife of John Jr.