December 08, 1931 – September 24, 2019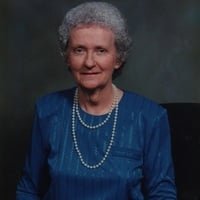 Mrs. Violet Miller Graves, 87, went to be with the Lord Tuesday, September 24, 2019. She died at home, as she wanted, surrounded by her family.
She was born December 8, 1931 in the Pineview Community to Levi and Lena Miller. In 1947 Violet married Noah Stephen Graves and loved happily for 62 years, until his death in 2009. The have four children, Aubrey (Janice) Graves of Chipley, FL, Judy George of Ninnekah, OK, Danny (Jan) Graves of Brewton, AL, and Sheila (Troy) Watson of Crestview, FL; one sister, Ruth (Hollis) George of the Pineview Community; and a special brother-in-law, Gam (Lily Ruth) Graves of Brewton, AL. Her grandchildren are Jennifer (Scott) Jordan, Marty (Meredith) Graves, Ryan (Robin) Langley, Levi Langley, Matt Watson, Hannah (J.R.) Brauda, and Nick (Madalyn) Watson; great-grand children, Dakotah Jordan, Stephen Graves, Elena Graves, Jessica (Greg) Bush, Dustin Postlewaite, Destiny Postlewaite, Xander Brauda, David Brauda, Noah Brauda, and Grayson Brauda; great-great-grandchildren, Lane Bush, Logan Bush, and Luke Postlewaite.
She has many friends and family that shared her love who will cherish their memories with her forever.
Violet was preceded in death by brothers, Morgan Miller, Buddy Miller, Houston Miller, and Eubie Miller; and sisters, Hazel Williamson, Ola Bell Saxon, and Ruby Adams.
She was a Christian, Godly woman of strong character. Violet had a generous, giving spirit and enjoyed helping others, and loved everyone. She was well known for her cooking and enjoyed spending time with her family, gardening and fishing.
Funeral services will be held on Saturday, September 28, 2019 from the chapel of Craver's Funeral Home with visitation at 10:00 A.M. and funeral at 11:00 A.M. with Bro. Byrnes Pitts, and Bro. James Peacock officiating. Burial will follow in Beulah Cemetery.
Pallbearers: Ryan Langley, Marty Graves, Steve Miller, Matt Watson, Curt George, Nick Watson.
Honorary Pallbearers: Greg Bush, Dustin Postlewaite, Scott Jordan, Stephen Graves, and J.R. Brauda.